The Ideal Mulcher for Silvopasture
The Best Mulching Machines for Silvopastures & Farms
The Gyro-Trac forestry mulching machine is the ideal tool for Silvopasture.
Gyro-Trac land clearing and forestry mulching machines are designed to handle any job that a forest or ranch has to offer.
These heavy duty machines can go through anything that you throw at them - from soil, roots and rocks, to stumps, brush and logs. The Gyro-Trac offers unmatched versatility in terms of its ability to tackle different jobs on your property.
---
Gyro-Trac forestry mulching machines are known for their versatility. They can tackle any job, from soil to stumps and everything in between. Silvopasture is a highly complex system that requires precision equipment to handle the diversity of forest products and livestock needs.
---
Our land clearing machinery provides customers with unparalleled cutting technology that makes work faster, easier, and more convenient.
Tyler Watts, owner of Ironside Forestry, welcomed the GT media team to his recent job site at Honey Hog Farms. The farm has a wide variety of livestock but the clearing around the bigger livestock was required and that's where Gyro-Trac comes into play - professionals in the forestry mulching industry can use land clearing equipment for any job!
We first found out about Tyler via his powerful Instagram posts. When we first began working at the Honey Hog restaurant, we noticed that Tyler's Gyro-Trac stickers had begun to wear out on his powerful Gyro-Trac 500 HF Cutter-head. Seeing so much hard work put in by Tyler's team on Instagram inspired us at Gyro-Trac to give him a whole new set of graphics which made him feel even better about joining the GT Mafia.
---
How Gyro-Trac Equipment Helps Enrich the Environment
To ensure the health of forests, we must rake and mulch trees so there is enough for regrowth. Not raking a forest can lead to more devastating fires as it grows wild without any supervision. That's why there's a big difference in general land clearing vs forestry mulching. There's also a big impact to the environment when machines utilize rubber wheels versus rubber or steel tracks. Where tracked vehicles lack in overall mph/kph, the benefits to the environment outweighs a few seconds here and there. In addition to that, because of the advanced, patented cutting technology that Gyro-Trac cutter-heads use, an even a finer mulch is produced from the cutting blades.
Just like the phrase, "There's more than one way to skin a cat," there are also just as many ways to go about forestry mulching. Gyro-Trac offers a range of options for forestry mulching that includes dedicated machines as well as a wide selection of Cutter-heads. Land clearing and forestry mulching professionals know all about the Legend of Gyro-Trac.
As an example to illustrate how well these machines work if you're looking to do some forestry mulching on a large scale - just like Tyler from Ironside Forestry, even a crew of 100 lumberjacks cannot come close to the efficiency of just one dedicated mulching machine. The Gyro-Trac forestry mulching machine is the safest and greenest option for farmers. Our Self-sharpening Groovy Tooth Cutter-head teeth are another big addition that helps make Gyro-Trac machines the most effective forestry mulching equipment on the market today. With one additional operator, Tyler is able to tackle jobs that would typically take him a lot longer and make it much easier on both himself and his land.
---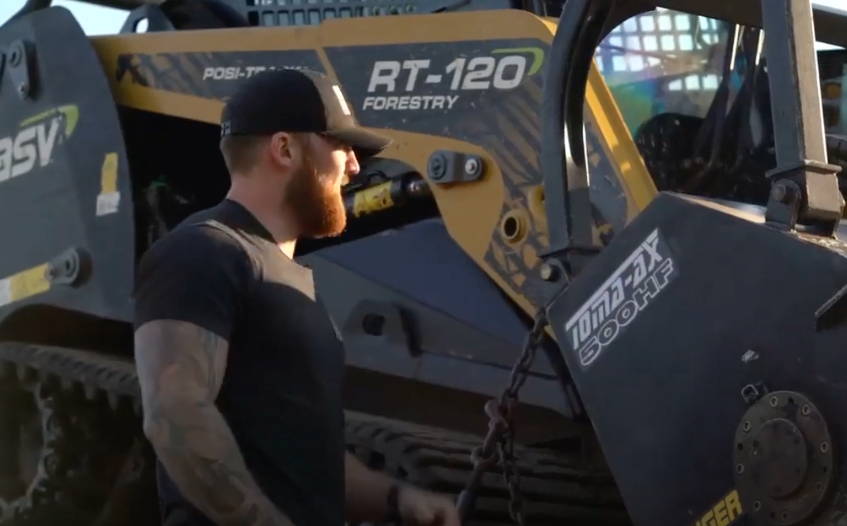 ---
Which Gyro-Trac Mulching Machine or Cutter-head is right for you?
One thing is for sure, whatever size job you're up against in the forestry mulching industry, Gyro-Trac has the perfect tools for the job! Our highly trained sales team is ready to help you and provide free quotes and estimates on all of our equipment. Compared to ordinary rotary-drum mulching machines, Gyro-Trac's Lean Green Mulching Machines are the best tools for jobs that require intense forestry management.
Life is hard enough without having to worry about whether or not your machine is up for the job. What's worse is the fact that over time, all machines will end up breaking down or having an issue here or there. But, what frustrates most professionals is the downtime they face when their equipment is in the shop. When mulching machines aren't running, it means they are not producing any income for the owner. Gyro-Trac has NEXUS available for our forestry mulching machines--so even if there are malfunctions, we're ready to help out our customers. Gyro-Trac's equipment will be able to help you get back up and running in no time.
Gyro-Trac has been a leader when it comes to forestry mulching machines for over 30 years, so they we know what it takes to keep these machines and systems operational at all times. Gyro-Trac is the perfect land clearing, forestry mulching, and Silvopasture tool for anyone in the industry. To help you determine which of our products may fit your needs best, click here and take the Forestry Mulching Machine Quiz.
---
Get a Free Quote to Learn More About Our Mulchers & Cutter-heads
Get in touch with us today for a free quote on any of our Forestry Mulching equipment. We offer the highest quality products available, so you can be sure that you're investing your money wisely.
Always First... Always the Best! That's Gyro-Trac!
---