(Formerly known as the GT-16 XP)
---
With the GT-200 Medium-Duty Mulcher, you will cut more wood in less time than with any competitor in its class. PRODUCTIVITY, PERFORMANCE & PROFITABILITY will become the hallmarks of your business.
Call for a demonstration today, and experience Gyro-Trac's Performance Promise with the GT-200 Medium-Duty Mulcher.
---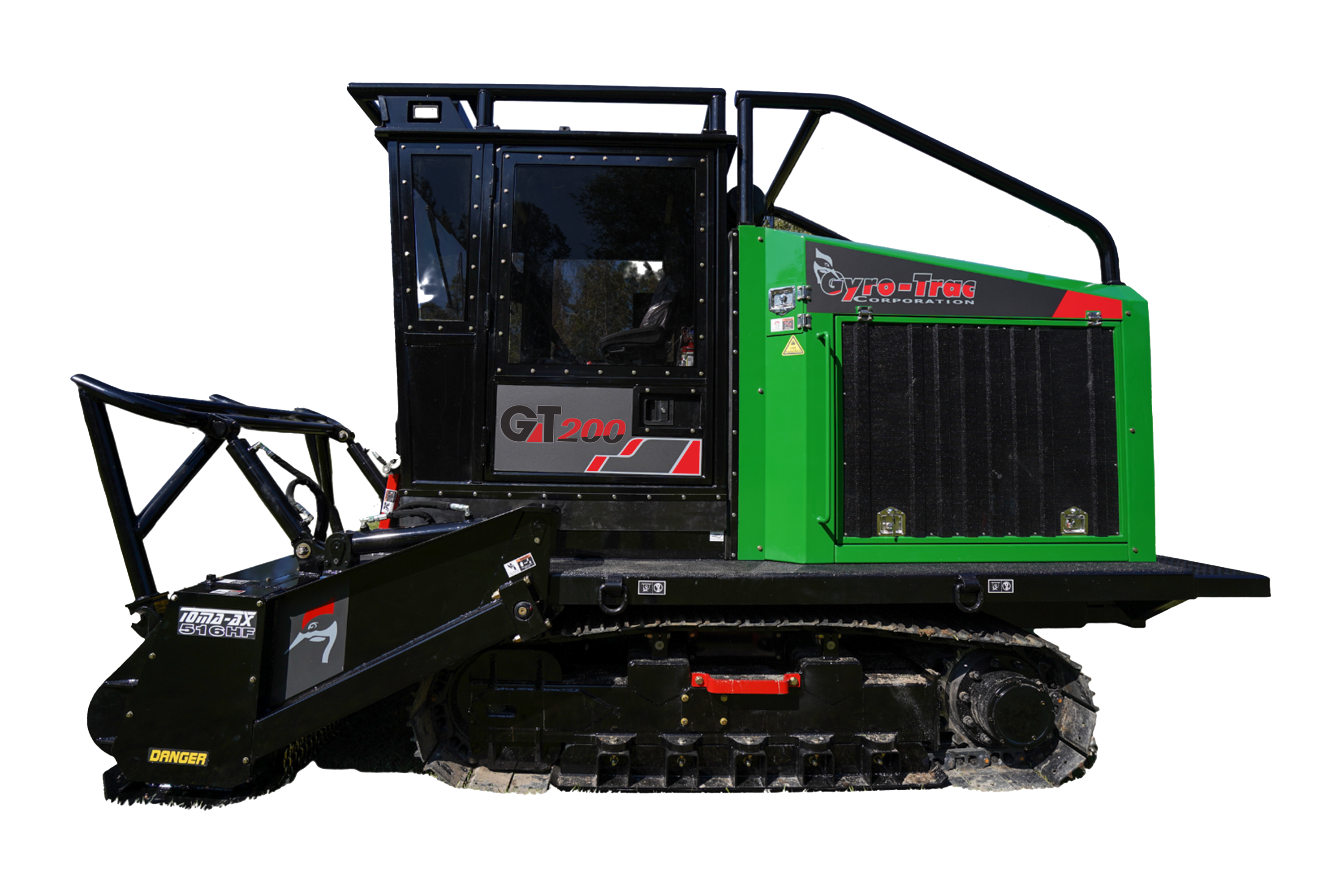 ---
Gyro-Trac is the first Mulching Machine Manufacturer to offer Stage V Emission Compliant Engines. Cummins' Single Module After-treatment technology makes engines 50% smaller and 30% lighter than equivalent Stage IV engines.
Stage V's high efficiency NOx conversion has allowed the complete removal of EGR from the engines. The simpler EGR-free engine platform is more compact, has less weight, fewer parts and is far easier to cool. You get improved reliability with less down time. Simple as that!
---
GT-200 General Specifications
The GT-200 comes standard with NEXUS service module, connected to the world's most advanced cloud-based service platform.
Overall Length: 194.5 in (494 cm)
Cutting Width: 65"
Overall Width: 80 ¾ in (205 cm)
Overall Height: 121 in (307 cm)
Operating Weight: 17,660 lbs (8010 Kg)
Ground Pressure: 5.2 psi (.36 bar)
Ground Clearance: 16 in (41 cm)
Maximum Speed: 5 mph (8 kmh)
Cummins Diesel
Model: B4.5 Stage V
Horsepower: 200 hp
Torque: 576 ft-lbs
Capacity: 67 US gal. (254 liters)
Est. Max Fuel Consumption: 6-7 gal/hr
Number of Teeth: 22 Fixed
Cutting Width: 80.75 in. (205 cm)
Depth: 79.5 in. (202 cm)
Height: 61.75 in. (157 cm)
Hydraulic Flow: Up to 58 gpm (220 lpm)
Operating Pressure: Up to 6000 psi (414 bar)
Forward Tilt Cab Jack: Raised Cab Electric Motor Pump
Windows: 0.5 in. Lexan MR-10
HVAC: 3-Speed
Pressurized Cab: Rear View Camera
Seat: Adjustable Suspension w/Armrest & Seat Belt
---
| | |
| --- | --- |
| | |
| ROPS - Roll Over Protection System | |
| FOPS - Falling Object Protection System | |
| OPS - Operator Protection System | |
| | Raised-Cab Electric Pump Motor |
| | |
| | |
| | Adjustable suspension with armrests & seatbelt |
---
Gyro-Trac's SABRE-TOOTH TITAN cutting technology PULVERIZES Wood into Sawdust-like Mulch. The new SABRE-TOOTH design is the NEXT GENERATION of "disruptive technology," improving on Gyro-Trac's Planar tooth.
It begins with a WIDER TOOTH, held in place with a WEDGED FRICTION BLOCK, taking all the force off of the single bolt. THAT'S RIGHT! Only one bolt to quickly and easily replace worn teeth.
The CONTROLLED BITE is now achieved with TWO instead of one control rib under the tooth. The distance between control ribs is wider.
The KNOCK-OUT RELIEF that reduces resistance by allowing the wood chip to curl into the relief, now has a SPLIT BLOCK strategically placed to SPLIT THE CHIP and further REDUCE the size of the wood chip. This new design creates a SELF-CLEANING effect, clearing the tooth for the next bite.
---
Testimonials
I've used a variety of different cutter-heads and nothing comes close to the GYRO-TRAC!

Brad Duncan
Being in business over 30 years, I know a thing or two about Mulching. GYRO-TRAC's NEXUS system is th best in the business!

Walter Oliver